Ferienwohnung oder einem Ferienhaus in Killarney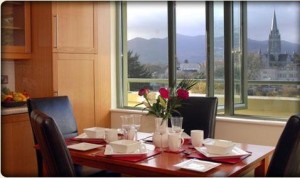 Wir haben ein grosses Angebot an verschiedenen self-catering Apartements und Häuser. Diese sind fuer 1-10 Personen eingerichtet.
Manche befinden sich im Zentrum von Killarney, ein bisschen ausserhalb oder auf dem Land. Alle Appartements und Häuser sind vom touristischen Vorstand Boar Failte, Irland anerkannt.
Die Muckross Holiday Homes iegen in der nähe der Schule und sind fuer 2-8 Personen eingerichtet..
Bitte sehe die Liste von Self Catering Unterkünften durch, welche nach Distanz von der Schule, dem Preis und der Anzahl Schlafzimmer aufgelistet sind. Die Meisten haben Weblinks, die du einsehen kannst. Diese oder du selbst kannst das Buchen vornehmen oder wenn du es vorziehst, kann ich das fuer dich machen. Einen Hinweis: Die meisten Self Catering Unterkünfte in Killarney sind sehr schnell ausgebucht. Ich schlage also vor, die Buchung möglichst schnell vorzunehmen. Einige Addressen von Eigenheimen
Please see map below with locations and also web links.