Appartements, Maisons et Maisons de campagne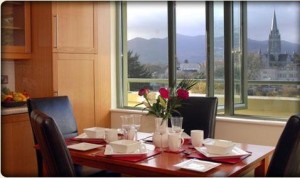 l existe a killarney une grande varieté d'appartements et de maisons à votre disposition. Ils peuvent loger entre 1 à 10 personnes. Certains sont situés au centre de Killarney, un peu en dehors de Killarney ainsi qu'en pleine campagne. Tous les appartements et les maisons sont approuvés par le bureau de tourisme irlandais, Bord Failte. Nous pouvons réserver des appartements, maisons ainsi que des maisons de vacance. Veuillez consulter le plan ci-dessus ainsi que les site-web pour choisir l'endroit.
Muckross Holiday Homes are located next door to the School and cater for 2-8 people.
Please see map below with locations and also web links.
If you wish you could also try these website
Cliquez pour obtenir des informations détaillées et les prix de toutes les options de self-catering