Part-Time English Courses
Course Name
Part-time course (PT)
Age Requirement
18 +
Level Requirement
None:  6 different levels available from Beginner to Advanced (A2-C1)
Course Length
As required by the student
Timetable
Classes available all year Sept –June: 10am –1pm Mon-Fri (mornings only )

July-August: 2-5 pm Mon-Fri (afternoons only)

Average group size
Sept-June: 1-6 students (mornings)July-Aug: 1-6 students (afternoons)
Price
Contact School
Part time English Course Description:
Our part-time courses are available to anyone who decides they would like to mix living and working in Killarney with studying English. The student can decide how many hours they wish to study per week to fit in with their work or holiday timetable. Many of the students who come to us on a part-time basis are working in the hotel and catering industry or are au pairs. All students are tested before arrival to place them in the class that best suits their ability.
Fees also include:
All course materials
Bus transport to and from school
A certificate of attendance and achievement on course completion.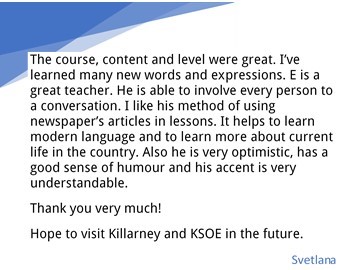 More Information
If you have any questions please email us at info@ksoe.com 
If you want information on our other courses please click here
If you wish to book a courses please click here