Activities at Killarney School of English
The activity programme operates in the afternoon between 2 and 5 pm after morning classes (see GE3 English Plus Activities Course). Killarney prides itself on its magnificent scenery and rich cultural heritage. Our activity programmes are therefore predominantly outdoors-based utilising the National Park with its mountains, lakes, castles and manor houses. Our activities are supervised by experienced team leaders who are English teachers themselves giving you the opportunity to practice your English in a more relaxed and informal setting. We have separate programmes for adults, teenagers or small children.
Children's Activities
These activities tend to be more educational in focus. They include nature trails, outdoor games, arts and crafts, drama, traditional music and Irish dancing lessons. In addition there are visits to pet and traditional farms and a fabulous visit to Ross Castle with a boat trip to Inisfallen Island.
The majority of these activities have been specifically selected because they are task-based and require instruction through the medium of English. This means that the learning of English continues all through the afternoon conducted and coordinated by qualified EFL teachers.
2020 Provisional Children's Activity Programme Summer 2020 (1)
The Performance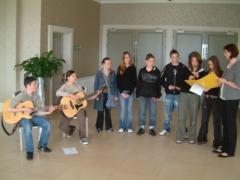 Every Friday between 11:20-12:00 a performance is held in 'the Kidz Zone' for the benefit of the parents. This is an opportunity for children to show what they have learnt during the week both in the morning classes and in the afternoon activities. This should give children great motivation during the afternoons as they know they will be performing at the end of the week. Here is a basic idea of what is covered during the performance.
11:20-11:40 songs sung by each class rehearsed in the mornings.
11:40-11:45 Short Irish dance or short traditional music piece rehearsed during Irish dancing or traditional music lesson in the afternoons.
11:45-11:55 short play rehearsed in the drama lesson but using art props designed in the art class.
11:55-12:00 certificate ceremony for those leaving that week
---
Teenager Activities
This activity programme tends to be more sports-based although it also includes cultural visits. Sports covered include volleyball, tag rugby, basketball, soccer, pitch and putt (3 par golf) , Gaelic football, cycling and kayaking. Cultural visits include Ross Castle and a boat trip to Inisfallen Island, Muckross House and gardens.

2020 Provisional Teenager's Activity Programme Summer 2020 (3
Adult Activities
The adult activity programme tends to have more of a cultural focus. It includes visits to Muckross House, Abbey and gardens; Ross Castle and a boat trip out to Inisfallen Island; Muckross Traditional Farms. In addition, there are weekly walks and cycles around the National Park, half-day trips to the neighbouring towns of Kenmare and Tralee; and traditional music and Irish dancing lessons.
2020 Provisional Adult's Activity Programme Summer 2020 (2)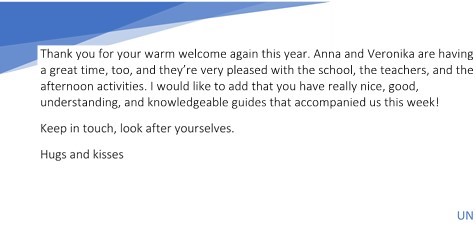 See what some of our adults think of the afternoon activities.