General English Language Course (GE1)
Our Most Popular English Course
The General English Language Course is available for all students; to adults (18 +), teenagers (13-17) and to small children (3-12)  Adult English classes are held in the main school building opposite Killarney National Park. Children's classes are held in the 'Kidzone' on the same site. Teenage English classes are held at our teenage school in Lisivigeen, Killarney. 
Each course is designed specifically to suit the required age group. All courses cover the four skills of listening, speaking, reading and writing with a specific emphasis on improving oral communication. Materials are taken from a whole range of diverse texts in order to tailor-make the course to each group of students.
Course Name
General English Language Course (GE1)
Age Requirement
3 +
Level Requirement

None:  6 different levels available from Beginner to Advanced (A1-C1) There is a short YouTube playlist of the some of the different English language levels we offer classes at for adults.

Course Length
As required by the student
Content
15 hours General English (Group Class)
Timetable
Adults: Classes available all year
Teens and Children: Easter and Summer only
9.45 am –1pm; Mon-Fri
Average Group Size
Sept-June: 1-6 students (mornings)
July-Aug: Adults 6-10 students (mornings)
Teens  10-12 students (mornings)
Children 6-12 students (mornings)
Price
€350 per week
Video Reference from Adult Students:
Please see below a YouTube Playlist of short videos of former students describing their experiences in the School of English.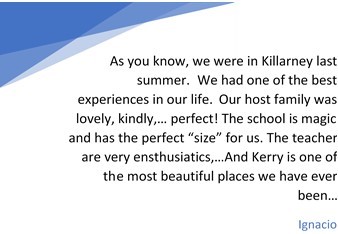 Fees also include:
All course materials
An information pack on arrival
Bus transport to and from school
Wi-Fi and internet access
A certificate of attendance and achievement on completion of course
Free bike rental on a first come first served basis
Free access to the self-access room with readers, Exam Papers, Pronunciation guides, Reading and Writing Practice, Grammar and Vocabulary Practice, DVDs and English Language Magazines. 
Would you like more information?
If you have any questions please email us at info@ksoe.com 
If you want information on our other courses please click here
If you wish to book a courses please click here