Combined English Course for Adults
Course Name
Adult Combined Course (GE2A)
Age Requirement
18 +
Level Requirement
None: 6 different levels available from Beginner to Advanced (A1-C1) There is a short YouTube playlist of the some of the different English language levels we offer classes at for adults.
Course Length
As required by the student
Content
15 hours General English (Group Class); 5 hours One-to-One
Timetable
Classes available all year
9.45 am-1pm; 2-3pm Mon-Fri
Average Group Size
Sept-June: 1-6 students (mornings)
July-Aug: 6-10 students (mornings)
July-Aug: 1-6 students (afternoons)
Price
€500 per week
Course Description:
The Adult Combined Course is designed for those students that wish to take part in a group class covering the four major skill areas of speaking, listening, reading and writing but would also like to get individual help for specific areas of their language learning. One-to-one classes are a fantastic way to make very rapid improvement in a student's level of English over a short period of time. These classes can even be tailor-made to suit the student's needs which may include English for Law, Medicine, Hotel and Catering or Tourism (see One-to-One Courses). All students are tested before arrival to place them in the class that best suits their ability.
Price also includes:
All course materials
Free transport on arrival from Killarney train or bus station
An information pack on arrival
Bus transport to and from school
WiFi and internet access
A certificate of attendance and achievement on completion of course
Free bike rental on a first come first served basis
Free access to the self-access room with Graded Readers, Exam Papers, Pronunciation guides, Reading and Writing Practice, Grammar and Vocabulary Practice, DVDs and English Language Magazines.
Please see what some of our former students have to say about KSOE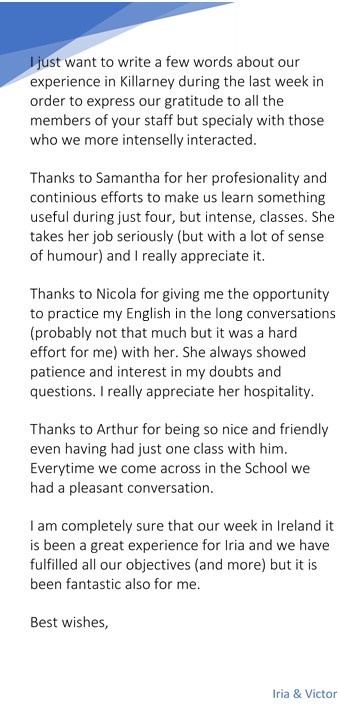 Would you like more information?
If you have any questions please email us at info@ksoe.com 
If you want information on our English courses please click here
If you wish to book a course please click here